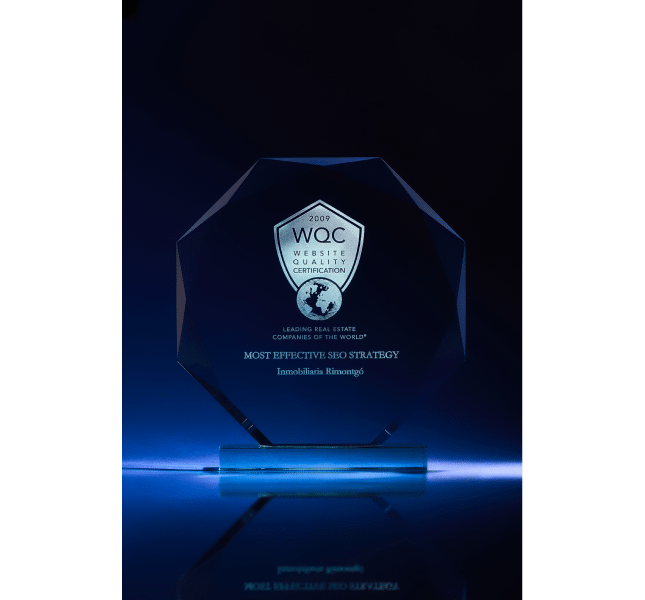 The Leading Real Estate Companies of the World Most Effective Seo Strategy - 2009
Rimontgó has been awarded the prize for "Best SEO Strategy" at the annual conference "Leading Real Estate Companies of the World 2010", held in the American city of Las Vegas between the 7th and 11th of March.
The event, which was attended by representatives from Rimontgó who collected the awards, was the culmination of a successful year for the company.
Rimontgó managed to beat 26 real estate companies from 17 countries competing in the same category.
Very satisfying for the Rimontgó team was the award for 'Best SEO Strategy', beating many of the giants of the US real estate sector.
Rimontgó passed the test conducted by an independent panel of international experts that included, among others, marketing specialists such as Matthew Ferrara, Steve Harney and Mike Staver.
"This is a wonderful award for me. We have been working on all aspects of search engine optimisation with great dedication on each of our sites for four years now, so the award is recognition of a long-term strategy and a huge amount of very precise work," said the CTO.
Rimontgó was convinced that the independent panel took into account the fact that their web presence is multilingual, "which forces them to take the right approach for each language".
This award, along with the 'Website Quality Certification', recently awarded by the Leading Real Estate Companies of the World, is recognition of Rimontgó's efforts in online marketing, he added.
The technology director noted that the awards also reward the large amount of time the Rimontgó team spends constantly adding and managing new properties, translating text and including high quality photography.
The Rimontgó team was represented in Las Vegas by the company's managing directors, José and Antonio Ribes Bas, Cristina Martínez (head of the Valencia office) and Maria del Mar Bas (head of the Jávea office).