Residential AC33: an example of sustainable architecture in the heart of Valencia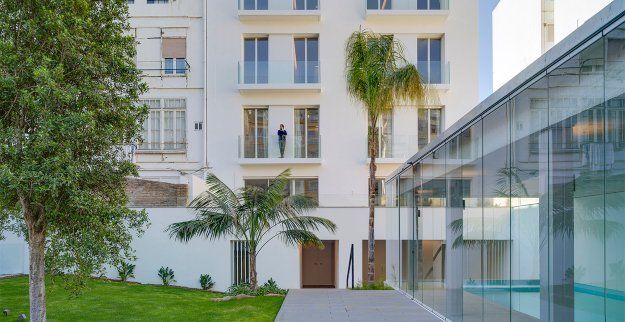 From 2015 we have been immersed in a big project of sustainable architecture in the heart of El Ensanche neighbourhood: a project that we have carried out together with ERRE Arquitectura, with dedication and care.
Today, after four years of hard work, we have the pleasure to announce the completion of the construction of this residential building at Almirante Cadarso, 33.
We have built like artisans the homes of the future
With the complete restoration of this building, our aim has been to improve the historic heritage of El Ensanche and to build properties in which space contributes to the comfort of the families living in it. We have built like artisans the homes of the future and we have make the most of the cutting-edge technology in order to transform this innovative project in one of the most eco-friendly buildings of Valencia, not to say that it is the building with the greatest energy savings, as it makes an exhaustive use of natural energies as no one has ever done before.
Discover the final result of this innovative residential project in the following video:
AC33 Team
Finally, and perhaps most importantly, we would like to emphasise that in this project we have been lucky enough to work with companies with a truly professional vocation. Professionals who love their work as much as we do, all of them convinced that doing things well, just for the sake of doing things well, contributes to the well-being of the neighbours and the improvement of coexistence in society.
We would like to give special thanks to the fantastic team of young architects led by José Martí Cunquero and Mª Angeles Ros from their architectural studio, ERRE Arquitectura, located, as it couldn't be otherwise, in the heart of El Ensanche in Valencia, and knowledgeable about the way of life of its residents.
Special mention should be made of the Architect Mr. José Luna Roselló, who, in this project, has put his heart and soul into it, as he always does in every project for which he is responsible. Part of the success is thanks to him and another important part belongs to Porcelanosa Grupo team, who have once again shown that respect for one's word is more valuable than any other consideration.
We thank all the companies and all of its more than 120 professionals for their dedication, intelligence and passion, which have been key to achieving this work of art.
This is them:
ERRE Arquitectura – Designer and Project Manager. Architects José Martí Cunquero and José Luna Roselló
Adypau Ingenieros – Engineers: Rafael Pérez Gamón and Eduardo Viguer
RDA Técnicos– Technical Architect Manuel Redolat. Director of the execution of the work
Porcelanosa Grupo – All its product range, flooring, equipment and coverings. José María Colonques and Arq. Blanca Peris Dúo
Edifesa – Builder
Aigüasol – Energy consultancy. Jordi Pascual and Oril Gavaldà
Energy Analysis– Luis Irastorza Ruigómez and Alberto Soriano (EDIFESA)
Itecon – Geothermal energy. Engineer José Salido
AT4 Group. Work execution. Quality control
TormoSil – Construction company: installation of coverings
Selfa Estudio Iluminación – Lighting
Rioma Redes – Electricity
Fricli – Indoor climate control
Orkli – Underfloor heating
Carrier – Aerothermal Heat Pump
Seguritec – KABA. Intelligent locking system
OTIS – Elevators. Mr. Evaristo Soriano
Toscalgarden – Gardening
Asver Verificaciones SLU / Eurocontrol SA – Quality Control
Controlges – Home automation. Engineer Juan Leante
Carrau Corporación – Legal Advisors
Agustina Herreros Hernández – Arqueología
Ernesto Bonet Peiro – Lawyer
Martin Forés – Wall painting lateral façade
Mª Isabel Martínez Esteso – Entrance ceramic mural
Thank you to each one of them and all their workers.
Stay tuned to our blog in which we will go deep into the history of a project of which we haven't been the owners but the instrument to create comfortable and environmentally friendly properties.