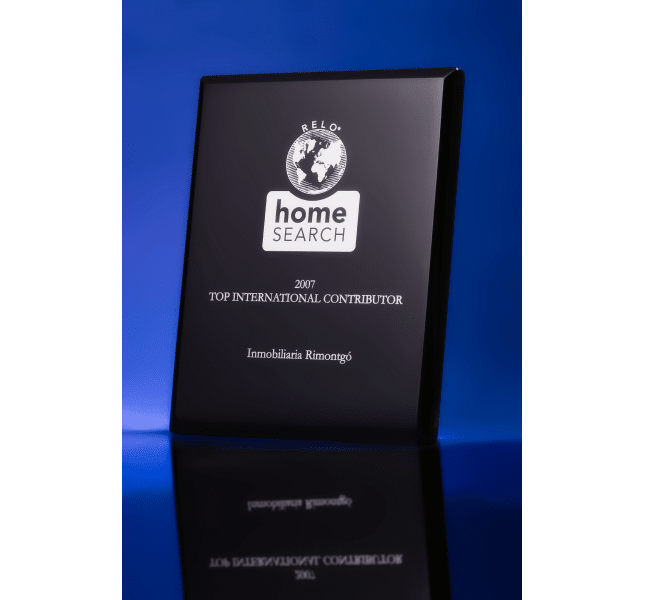 RELO Home Search Top International Contributor - 2007
Boca Raton, US – (Apr. 21, 2008)
After winning the 'Most Influential Global Real Estate Leader' award, given by Luxury Real Estate, in January this year, Inmobiliaria Rimontgo has again been honoured with a highly prestigious international property award.
The accolade came at the annual conference of The Leading Real estate Companies of the World RELO®, held at Boca Raton, Florida, where the firm, which has enjoyed excellent results from its web exposure initiatives, was singled out for its contribution to web-driven marketing, promotion in the luxury real estate sector and successful sales inventory.
RELO Home Search® is the powerful tool of the international network that links 700 leading agents specialising in top-end real estate around the globe. Building on over 40 years of bringing together the finest professionals in their field, and promoting international cooperation in the luxury segment, The Leading Real estate Companies of the World is a name across the globe, encompassing nearly 700 companies in 35 countries, representing an annual turnover of over $400 billion and selling more homes valued at $1 million and above than any other organization.
Receiving the award of '2007 TOP INTERNATIONAL CONTRIBUTOR' from an organisation as respected as The Leading Real estate Companies of the World is therefore a great honour. Coming in the wake of Mr. Ribes's keynote speech on 'High-level strategies that executives can use to properly manage their web exposure,' the award is a reflection of his standing, expertise and contribution to the field of web management and marketing.
This expertise is built not just upon market, strategy and web experience with regard to luxury real estate, but also on Antonio and José Ribes's ability to build teams and strategies designed to apply that knowledge to great effect. A networking natural, They have not only greatly increased the international exposure and traffic of their own company Inmobiliaria Rimontgo, but also integrates listings from partner agencies across the globe.
Of vital importance in the impressively high rankings the company's site enjoys in four languages has been the outstanding contribution of the technical IT department.
This department has also been instrumental in the close collaboration between the Valencia-based agents and The Leading Real estate Companies of the World, in the development of their portal, property listings imports and exports, and a host of other web-related projects. It is in recognition of his and his team's sharing of expert knowledge and ideas that José Ribes has been awarded for his outstanding contribution to the international luxury real estate sector.