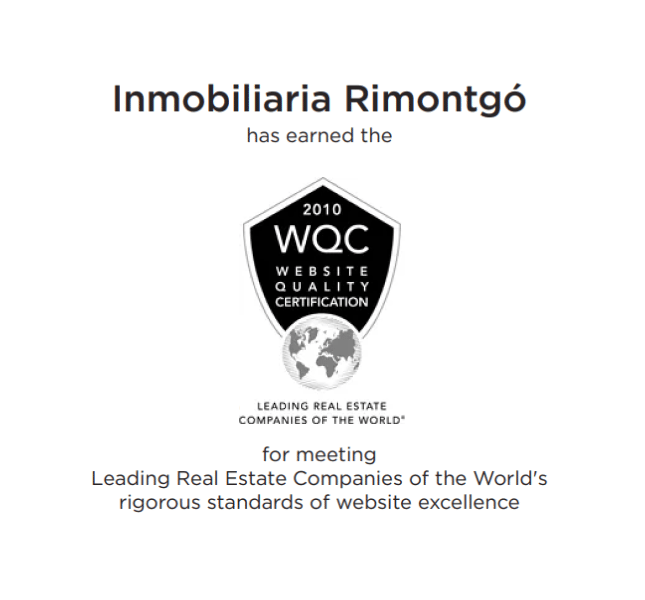 The Leading Real Estate Companies of the World Website Quality Certification - 2010
Having already been among a select number of international agents to receive Leading Real Estate Companies of the World's coveted Website Quality Certification in 2009, and having won the prestigious organisation's award for Best SEO Strategy in the same year, Rimontgó is poised to win another series of awards this year.
The company's efforts to develop first-class websites and build online marketing expertise have been rewarded with this international recognition, as Rimontgó's multilingual websites and blogs are acclaimed by industry and customers alike. What's more, Rimontgó offers dedicated websites and blogs in Spanish, English, French, German and Russian, all written to a high standard and aimed at providing information on a broad range of property and lifestyle topics.
As a result, the sites have become a reference point for information and advice on real estate issues, area background information that covers history, culture and also practical topics, interest-specific property highlights and of course an easy to navigate selection of the finest homes not just in the Valencia and Jávea regions, but across Europe and indeed the world. As a result, the content covers the four corners of the globe, though understandably focuses especially on the regions of Valencia and Jávea – making this one of the most authoritative information sources and a great promoter of this eastern region of Spain.
With a solid SEO strategy built on quality content, attractive design, optimal usability and interactivity, and collaborations with the top real estate networks in the world, Rimontgó has built up a powerful web presence that reflects its position as a leading luxury real estate specialist.
This year, Rimontgó has again earned the Website Quality Certification of Leading Real Estate Companies of the World, as well as the nomination for Best Overall Website 2010. "It's important recognition for the work we have been doing these past years," says CEO José Ribes Bas. "We are proud to have been awarded in this way, and we will continue to strive to provide an online resource that services the needs of our clients and also promotes our wonderful corner of the Mediterranean."