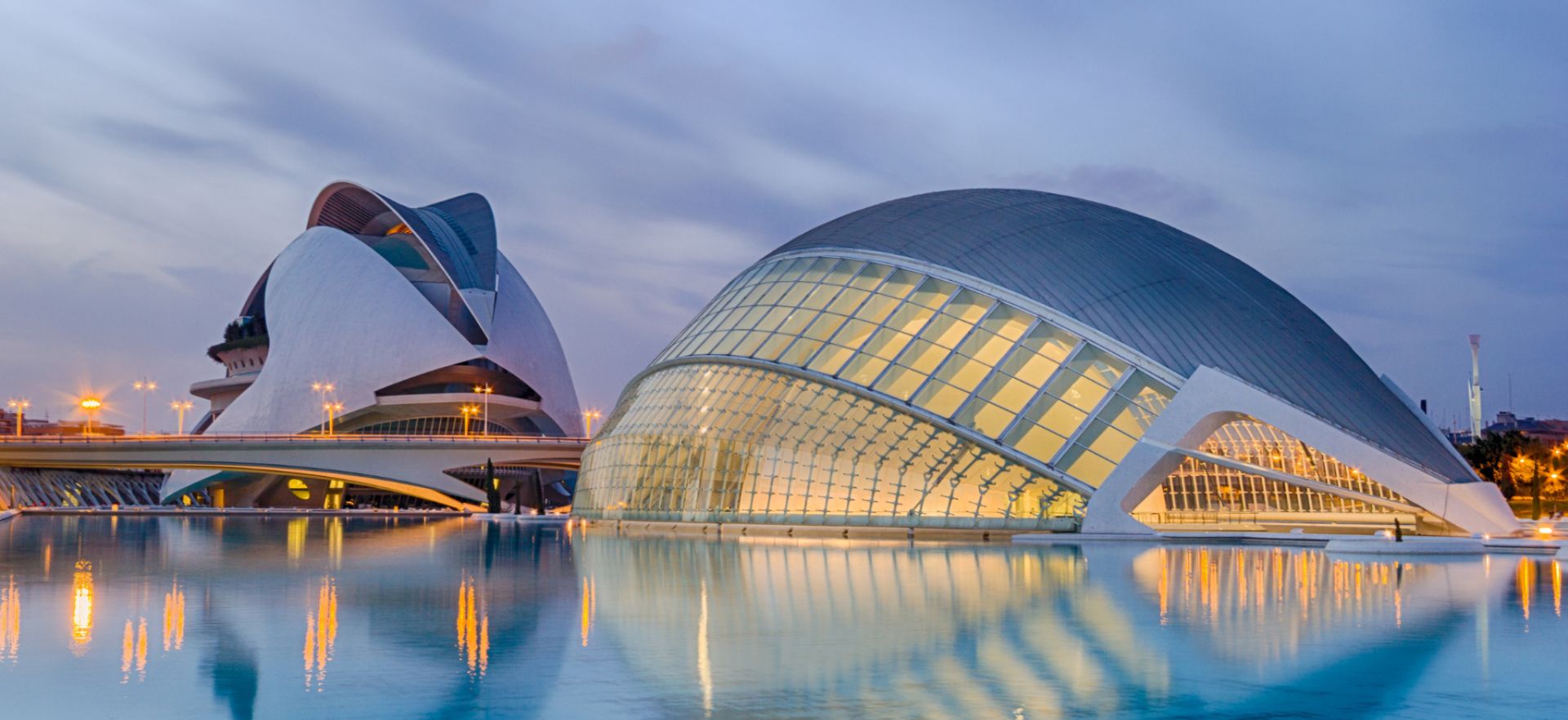 Camins al Grau
Camins al Grau is an area of Valencia articulated around the last stretch (southbound) of the renovated Turia riverbed. It is an area of expansion of the city characterised by newly constructed buildings very close to the City of Arts and Sciences. These residential buildings are located on both sides of the riverbed.
Camins al Grau is one of the most sought-after areas for buying a home and its neighbourhood is made up of many young families with children who have moved into the area in recent years.
Is the Camins al Grau area very far from the city centre?
Valencia is a smaller city than other large capitals. For this reason, it is much more friendly and manageable for locals and visitors. From Camins al Grau, if you like walking, you can reach the First and Second Ensanche in about 20 minutes. To the Ciutat Vella or Old Town we can take approximately 30 minutes. In any case, Camins al Grau is perfectly communicated with the centre of Valencia by means of the public transport.
What kind of properties can I buy in Camins al Grau?
As an expanding area of the city, Camins al Grau has many buildings that began to be built during the nineties. Many others were erected since 2000 and there are still developments under construction today, a fact that shows that Camins al Grau continues to be an enormously attractive area when it comes to buying a home.
Many of these buildings have added services such as a swimming pool, tennis court or paddle tennis court. Moreover, as they are recently constructed buildings, almost all of them have parking spaces in the basement for their neighbours.
The buildings, modern and with high construction qualities, house spacious homes, generally between 2 and 4 bedrooms, with terraces. These homes are adapted to the needs of families with children who have settled in this neighbourhood in recent years.
What kind of services can I find near Camins al Grau?
Despite the recent construction of some of its buildings, Camins al Grau is a perfectly consolidated area where we can find all the necessary services: from shops to bank offices and, of course, all kinds of bars, cafes, restaurants and hotels.
On the other hand, we cannot forget that in Camins al Grau we have a large department store such as El Corte Inglés and two large shopping centres (with a cinema): Aqua and El Saler.
For sports enthusiasts, as well as the large extension of the Turia riverbed, which has lanes designed exclusively for running, in Camins al Grau there are large sports centres such as the Sporting Club or Polideportivo Samaranch, which have a swimming pool, gymnasium, tennis and paddle tennis courts.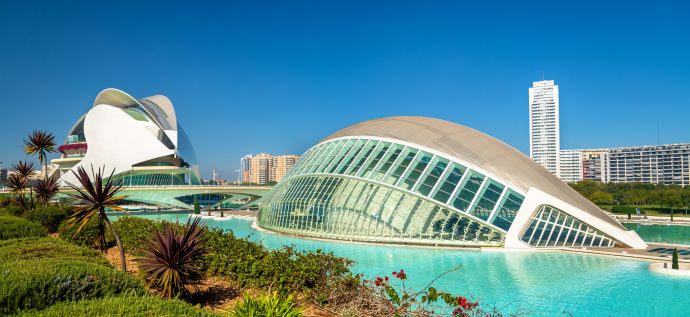 Is Camins al Grau an area close to the beaches?
Camins al Grau is very close to Valencia's urban beaches such as Malvarrosa and Patacona (just 10 minutes by car and 25 minutes by public transport).
As it is located to the south of the city, Camins al Grau is an area from which we can quickly access the beaches located outside the city, but very close to Valencia: Pinedo, El Saler, El Perellonet and El Perelló. In addition, these four points stand out for having a large number of excellent restaurants specialising in traditional Valencian gastronomy.
What lifestyle will I enjoy when I buy a property in Camins al Grau?
Camins al Grau stands out for its quiet and familiar lifestyle, with buildings sponged around wide streets and tree-lined avenues.
Life in Camins al Grau revolves around one of Valencia's great cultural and tourist attractions: the City of Arts and Sciences, designed by the Valencian architect Santiago Calatrava, which is home to the European headquarters of the prestigious Berklee College of Music, which welcomes hundreds of international students every year.
A weekend stroll through the City of Arts and Sciences will take us, following the course of the river, to the area closest to the Palau de la Música. From there, the city centre is just a 10-minute walk away.
Is Camins al Grau a safe area to buy a property?
As in the rest of Valencia, Camins al Grau is a perfectly safe neighbourhood. Many sportsmen and women use the riverbed in the early evening to avoid the heat peaks. Many families also stroll along from late afternoon until the sun goes down. Cafés and restaurants liven up the weekend evenings, so there is usually a lot of social life in this neighbourhood.
Is Camins al Grau a family-friendly area?
Camins al Grau is an area that is particularly popular with families with children. In addition to spacious homes in buildings and residential complexes with extras such as swimming pools, families have large recreational areas within walking distance for strolling, playing or playing sports.
Camins al Grau is a perfect area for families with children as it is enough to cross a bridge to access the schools in the Second Ensanche: Dominicos, Maristas or Loreto. On the other hand, Camins al Grau is a bus stop for international schools outside Valencia, which can be reached in just 25 minutes.
Is it a good option to buy a property and rent it out?
Valencia is a very active city in the rental market. More and more national and foreign professionals are choosing Valencia to develop their careers. In addition, Valencia is a city that receives thousands of students every year, as it has excellent universities and prestigious teaching centres, such as the European headquarters of Berklee College of Music. Acquiring a property for the rental market is an increasingly widespread option. At Rimontgó we will advise you step by step if you wish to explore this option.
What type of foreign clients buy property in Valencia?
There is no defined typology although we can point to liberal professionals who settle in Valencia with their families, those who work for foreign companies with headquarters in the city and, of course, retired people who buy a home in Valencia knowing the quality of life that the city offers.
What guarantees can I count on when buying a property in Valencia?
Firstly, at Rimontgó we always recommend, when purchasing a property, to count on the advice of an accredited and experienced professional. The purchase of a property is a very important decision for any client and for this reason we insist on the need for advice and help. The housing market in Valencia, as in the rest of Spain, is regulated and has all the legal guarantees that protect the interests of both the buyer and the seller.
What are the costs involved in buying a property in Valencia?
The costs for the buyer in Valencia are the same as in the rest of Spain. Notary and Land Registry fees, Value Added Tax (VAT), Stamp Duty and Transfer Tax. Some of these expenses depend on the value of the property. At Rimontgó we will accompany you in all the phases of the purchase, and previously we will offer you a detailed report of the expenses derived from the acquisition of the property.
How long does it take to buy a property in Valencia?
There is no definite time frame. At Rimontgó we always recommend calmly analysing the market and the different proposals it has to offer. The purchase of a property is a unique decision, extremely important and that affects both the buyer and their family, which is why haste is not a good advisor. It is essential to take as much time as the client needs to choose the best option.
Is it advisable to go to a real estate company when buying a property in Valencia?
It is not convenient. It is essential. In Spain, the home buying and selling market is a free market, which is why at Rimontgó we always recommend that you turn to professionals with experience and prestige. Expert advice in all phases of the purchase is the best tool to make an optimal decision.
Do I need any special documentation to buy a property?
At Rimontgó we advise our clients in all the administrative processes related to the purchase of a property, such as obtaining the NIE, opening a bank account or choosing a notary to carry out the signature with all the legal guarantees.
Properties in Camins al Grau - Valencia
Sold
Camins al Grau, Valencia
3

Bedrooms

Beds

2

Baths

Baths



255 m²

Interior

Int.

80 m²

Terrace

Terrace