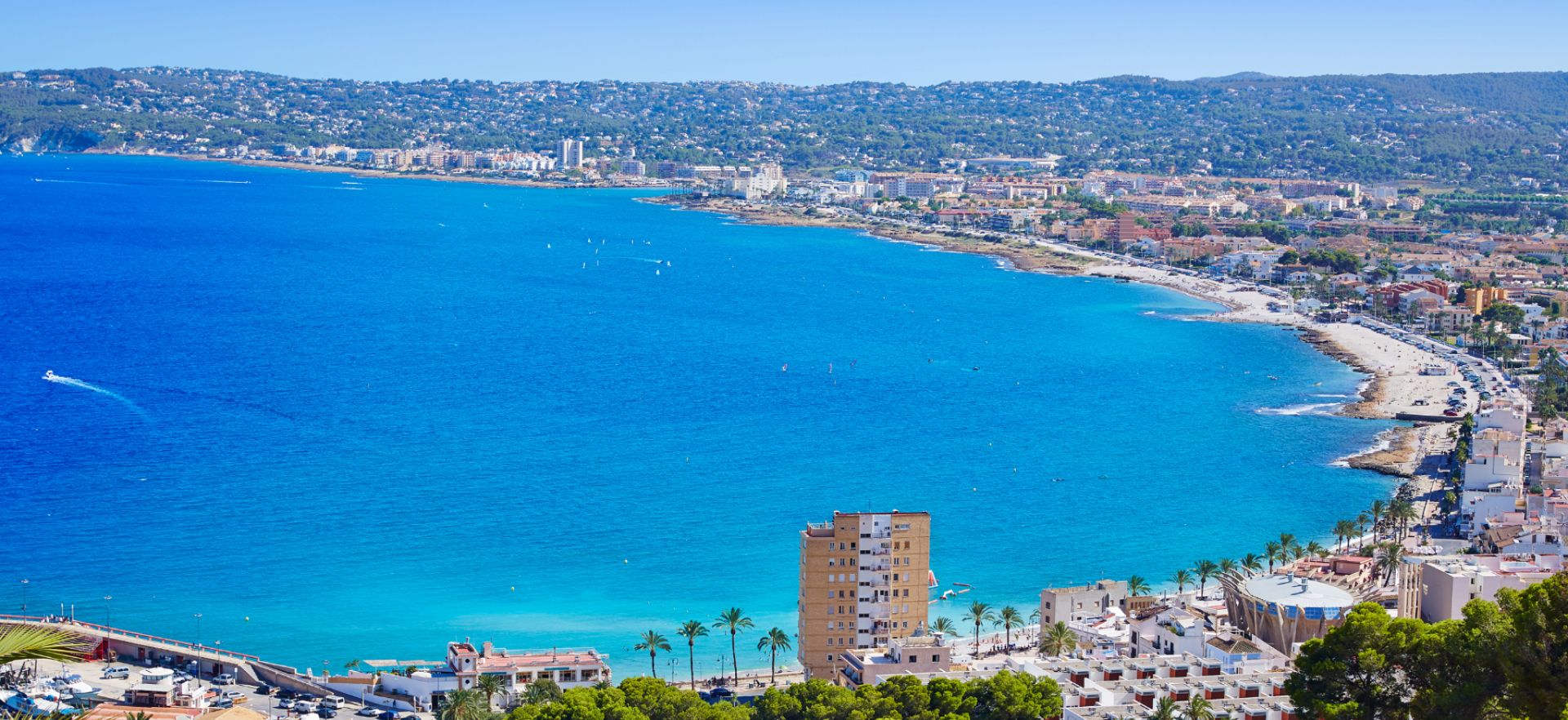 Javea
Jávea (in Valencian, Xàbia) is a coastal town located on the Costa Blanca, on the coast of the province of Alicante. For several decades, Jávea has been a favourite location for foreign nationals looking to enjoy the Mediterranean lifestyle at its best.
Is Jávea a suitable location for foreign citizens?
Jávea is one of the most sought after locations for foreign nationals wishing to buy a quality property in Spain. Jávea, despite its small size compared to other coastal towns, has a census of foreign nationals from more than 120 countries, a fact that demonstrates its cosmopolitan status.
What kind of properties can I buy in Jávea?
National and foreign buyers wishing to purchase a property in Jávea have at their disposal a wide range of villas located in different residential areas characterised by their privileged location, which in many cases allows for extraordinary views of the Mediterranean, privacy and exclusivity.
On the other hand, the town of Jávea itself offers, in areas such as around the port, flats and penthouses with a privileged location that also allow you to enjoy excellent views, as well as quicker and more direct access to all kinds of services.
Is Jávea well communicated and is it easy to get to the airport?
Jávea is connected to both the city of Valencia (105 km) and Alicante (90 km) via the AP-7 motorway. The nearest international airports, therefore, are El Altet and Manises, which connect with Jávea in a journey time of approximately 75 minutes by road.
Does Jávea have all the services necessary for a comfortable and simple daily life?
Jávea is a town perfectly adapted for both nationals and foreigners, as for more than 50 years it has been receiving a considerable flow of tourists and shoppers from other countries. In summer and winter, Jávea has a medical centre, police station, supermarkets and hypermarkets. Furthermore, in the town of Dénia, just 11 kilometres away, we find the Marina Salud hospital.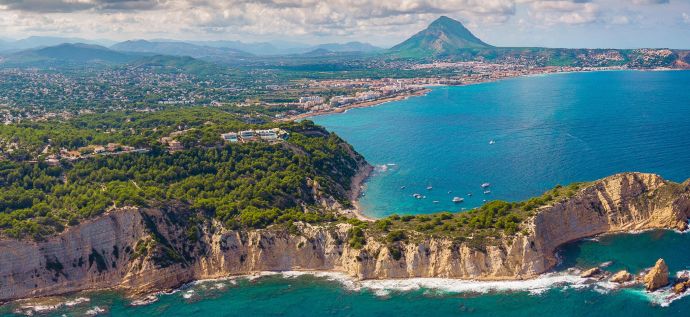 What options does Jávea offer for sports?
Jávea is a town that offers a wide range of options for sporting activities. Water sports enthusiasts can go kayaking, windsurfing, paddle surfing or scuba diving thanks to the various diving clubs and companies specialising in water sports. The destination are several coves of great natural beauty that border the town of Jávea. Likewise, in the port of Jávea, different companies offer sailing and yachting classes. Golf enthusiasts have clubs such as La Sella or the Jávea Golf Club at their disposal.
Can I go on excursions from Jávea?
The privileged location of Jávea, between the sea and the mountains, makes it very easy to enjoy a wide variety of outings without having to travel too many kilometres. The Sierra del Montgó, a Natural Park, offers direct contact with nature through different hiking routes adapted to different ages and abilities. Another highly recommended short excursion can take us to the lighthouse of Cabo de La Nao, from where we can enjoy excellent views of the Mediterranean. Many of the coves most in demand by tourists in summer can be an excellent reason for an excursion during the winter months, on outings of just a few kilometres from Jávea that allow you to get close to coves such as La Granadella, among many others.
Another highly recommended option is to discover the small inland villages of the Marina Alta region, where many foreigners have settled, such as Sagra, Orba, Sanet, Vall de Laguar or Tormos. From these towns it is also possible to go on different excursions.
Without leaving Jávea, the historic centre of the town itself offers a great attraction for a walk "without leaving home". Some of the highlights include the Mercado de Abastos, the Gothic church of San Bartolomé, as well as the Church of Nuestra Señora del Loreto, inaugurated in 1967 and one of the best examples in Spain of contemporary architecture applied to religious buildings.
What kind of lifestyle can I enjoy in Jávea?
Jávea represents like few other towns the Mediterranean lifestyle, characterised by an average annual temperature of between 18 and 24 degrees Celsius and more than 300 days of sunshine a year. An extraordinary Mediterranean climate that has attracted thousands of nationals and foreigners for decades.
My family loves to spend the day at the beach, does Jávea offer different options?
Jávea offers the visitor a large number of beaches and coves, sand and rock, both for families who want a quiet day at the beach and for the more adventurous. The Arenal beach or the Grava beach (closer to the town of Jávea) are perfect for families with small children who wish to enjoy a relaxing day in the sun and sand. In addition, the promenade next to the Arenal beach offers a wide range of options for lunch or dinner. On the other hand, in the Jávea area there are many coves (Portitxol, Granadella, Cala Sardinera, Cala Blanca), with crystal clear waters, sandy or rocky, with fewer visitors than the more traditional beaches.
On the other hand, the beaches of the first and second Muntanyar are rocky beaches, although easily accessible and very suitable for snorkelling.
Any of the beaches and coves of Jávea stand out for the cleanliness and transparency of their waters, which is why they have been awarded the Blue Flag distinction.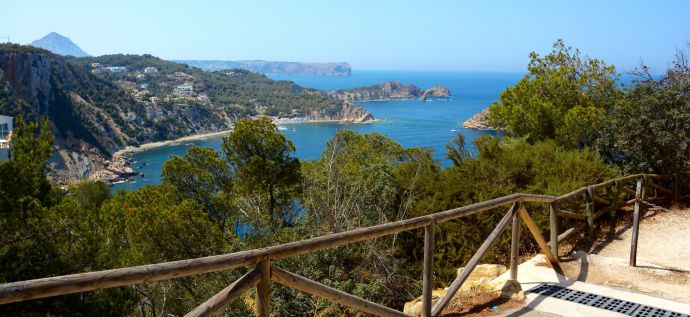 What are the most outstanding features of Jávea's gastronomy?
Jávea's gastronomy is characterised by the use of fresh produce, thanks to the fish that is caught and auctioned daily at the fish market and which is taken to local bars and restaurants, where it is served grilled or in traditional recipes such as cruet de peix (fish stew).
In addition to fish and a variety of rice dishes, another of the hallmarks of Jávea's gastronomy is salted fish, such as dried octopus, mojama or roe.
Among the most popular restaurants in Jávea are Bon Amb, Tula, La Perla, La Barraca, Sur or Cala Bandida, although the offer is as wide as the customer's demands.
Which areas are most in demand?
Within the town of Jávea itself, the most sought-after area is the one closest to the port of Jávea and its harbour. Outside the town, the residential areas most appreciated by national and foreign buyers are Tosalet, Cuesta de San Antonio, Balcón al Mar, Cumbre del Sol and La Corona. Other sought-after areas are those close to the cliffs, with gravity-defying constructions with breathtaking views of the Mediterranean Sea.
Arenal: This is the area next to Jávea's Arena beach, a very family-friendly beach with all services, including a wide range of restaurants. This beach is also home to a long-established diving club that offers a wide range of activities, such as boat trips for snorkelling. The most common properties in this area are flats and penthouses along with semi-detached houses in residential areas with communal services.
Properties for sale in El Arenal
Cuesta de San Antonio: The properties situated in Cuesta de San Antonio enjoy a privileged location in the surroundings of Jávea. Shaped as an exceptional viewpoint, from the swimming pools of the buildings located in Cuesta de San Antonio it is possible to enjoy extraordinary views of the port of Jávea and the Mediterranean.
Properties for sale in Cuesta de San Antonio
Cap Martí and El Tosalet: Cap Martí is one of the most popular residential areas in Jávea, close to beaches and coves such as Cala Blanca, La Granadella or La Barraca. Within this residential area we find El Tosalet, an urbanization that currently has three phases built and that was born in the sixties as a summer refuge for the bourgeoisie of Madrid and northern Spain thanks to its spacious villas that paid homage to the traditional architecture of the Costa Blanca.
Properties for sale in Cap Martí
Properties for sale in Tosalet
Balcón al Mar: This residential area is located next to Cabo de la Nao and the properties (many of them built in the 1980s) have exceptional views of the Mediterranean Sea. From its cliffs, the Arenal beach is only 10 minutes away by private car.
Properties for sale in Balcón al Mar
La Corona: The residential area of La Corona is situated in an enviable location, protected by the mountains and with enviable views of the port area of Jávea and nearby beaches. The villas located in La Corona are just 3 kilometres from the port area.
Properties for sale in La Corona
Capsades: La partida de Capsades is located in a natural enclave in Jávea, a short distance from the Arenal beach. In this location you can find traditional villas as well as new construction projects.
Properties for sale in Capsades
Costa Nova La Marina: Costa Nova is a very private residential area situated next to the Waldorf International School and close to the Granadella and Ambolo beaches.
Properties for sale in Costa Nova
Montañar I: This area is located next to the promenade and road that stretches from the centre of Jávea to the Parador Nacional de Turismo. On this stretch, with the beach just a few metres away, we find privileged villas and modern buildings that include spacious flats with terraces and views of the Mediterranean.
Properties for sale in Montañar I
Montañar II: The area of the second Montañar extends for a distance of one kilometre from the sandy beach in a southerly direction. Its beach is characterised by rocky formations and access by stairs. Behind it, there are residential areas with flats with extraordinary views and villas.
Properties for sale in Montañar II
Nova Xàbia: This residential area is located next to the hermitage of Santa Llúcia. It is an area, located in an environment of great privacy, between the road of les Planes and Camí de Castellans.
Properties for sale in Nova Xàbia
Portichol: The Portichol area (in Valencian language, Portitxol) is located in one of the most unique locations in Jávea, opposite the island of Portitxol and very close to the beach and cove of the same name. This location is home to villas with extraordinary views of the Mediterranean.
Properties for sale in Portichol
Puerta Fenicia: Puerta Fenicia is a recently developed residential area located a short distance from the Arenal beach in Xàbia. This area is home to large villas with spacious plots.
Properties for sale in Puerta Fenicia
Is Jávea a safe town?
Jávea can be considered as a very safe town thanks to the combined work of the security forces composed of Local Police, Autonomous Police and Civil Guard. The last Security Board of the Jávea Town Council, held in March 2021, served to corroborate the outstanding data on the drop in crime, which for years has been below the national and regional average.
Does Jávea have international schools?
There are several options in Jávea for parents who wish to send their children to school following foreign curricular models. This is the case of Lady Elizabeth School, located next to the Cumbres del Sol urbanisation and offering primary and secondary education, and Xàbia International College, which offers education in English for pupils from 2 to 18 years of age.
Related guides
Back toIn Costa Blanca