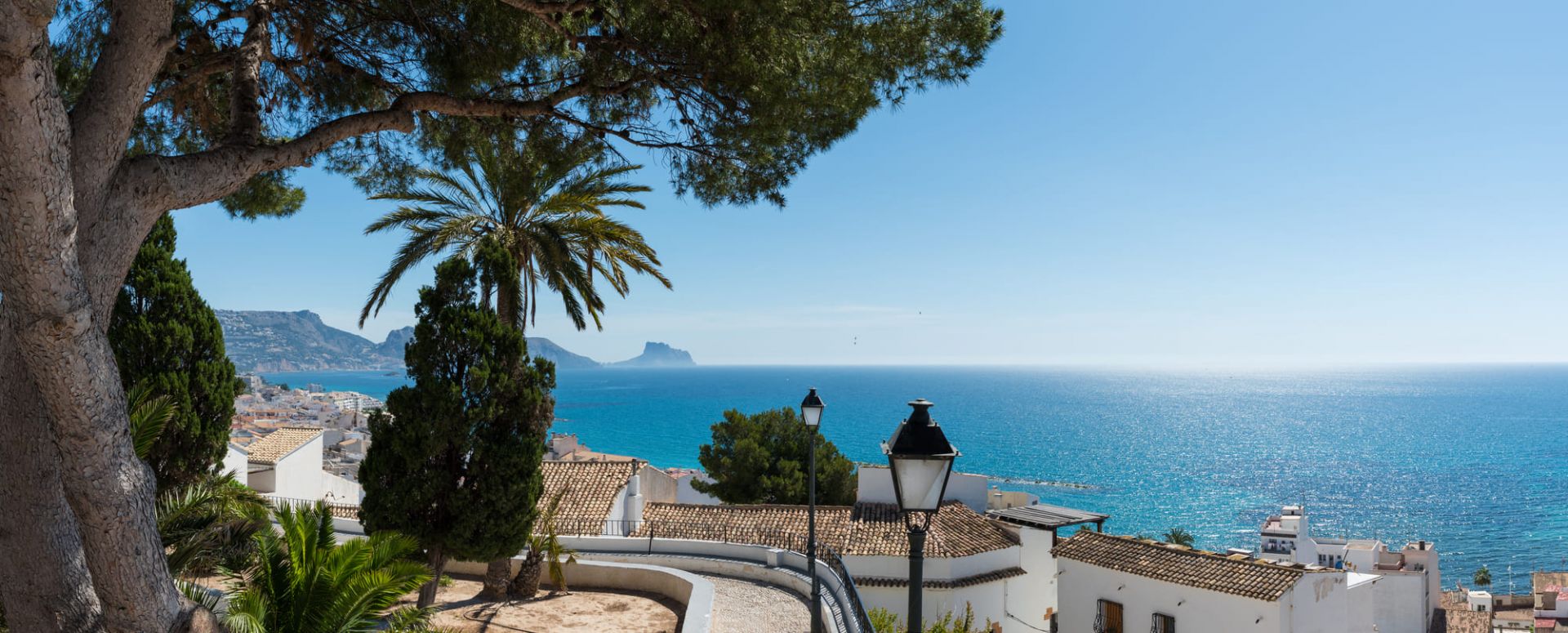 Costa Blanca
The Costa Blanca, a region situated in the province of Alicante, has for decades been a firm favourite destination in Spain among foreign citizens. With the Mediterranean Sea as its natural border, the irresistible allure of the coastal localities such as Jávea, Dénia, Altea and Moraira, acts as a magnet drawing in international visitors. The coves, cliffs, fishing ports and top quality beaches, all fused with an extraordinary climate and the rich Mediterranean diet, are some of the main factors that highlight the immense attraction of this area of the Valencian Community.
Dénia, the capital of the Marina Alta district, is a charming, cosmopolitan town with a medieval castle at its heart. Its 20-kilometre coastline is made up of both sandy beaches, interspersed with beautiful little coves and craggy enclaves, and a series of beautiful white cliffs from which the region takes it name. The Montgó Nature Reserve, situated on the border between Dénia and Jávea, occupies the most spectacular part of the coast, where the cliffs, sculpted by the winds of time, provide a landscape with an endless variety of texture and form.
Rounding this part of the coastline, there is the open bay of Jávea, with the charming locality itself sloping down the hillside towards the sandy and stone beaches. With a lovely marina and a quaint old town that has been completely restored, Jávea offers visitors an excellent combination of several attractions.
The dome of Altea's church, is another symbolic feature of the Costa Blanca. The town, whose old, populous streets give it a certain charm, is situated on a hill whose peak rises dramatically above the white-tiled parish church. Its tranquillity attracts artists and artisans, with their shops and stalls spread out across the whole of the historic centre.
The relation between the Costa Blanca and the Mediterranean is represented in its perfect gastronomy, in which the seafood plays a particularly privileged role. From the notable fish markets to the tables of renowned restaurants, such as El Poblet (which boasts three Michelin stars) managed by Quique Dacosta, and Casa Pepa, are the prawns (typical of Dénia) and salted fish, in which octopus, either dry (which is considered a traditional dish in Marina Alta) or prepared differently, is one of the main options. Without forgetting the rices of course, either dry or creamy, and commonly found in dishes containing fish.
From whichever locality previously mentioned you can quickly reach the city of Alicante (which boasts the international El Altet airport) and Valencia. 20km in from the Costa Blanca, you can visit a highly recommendable area near the Valle de la Rectoria, which is a peaceful collection of small towns overturned for the cultivation of citrus fruits and the making of mistela.
Related guides
All guidesIn Costa Blanca
Properties for sale in Costa Blanca