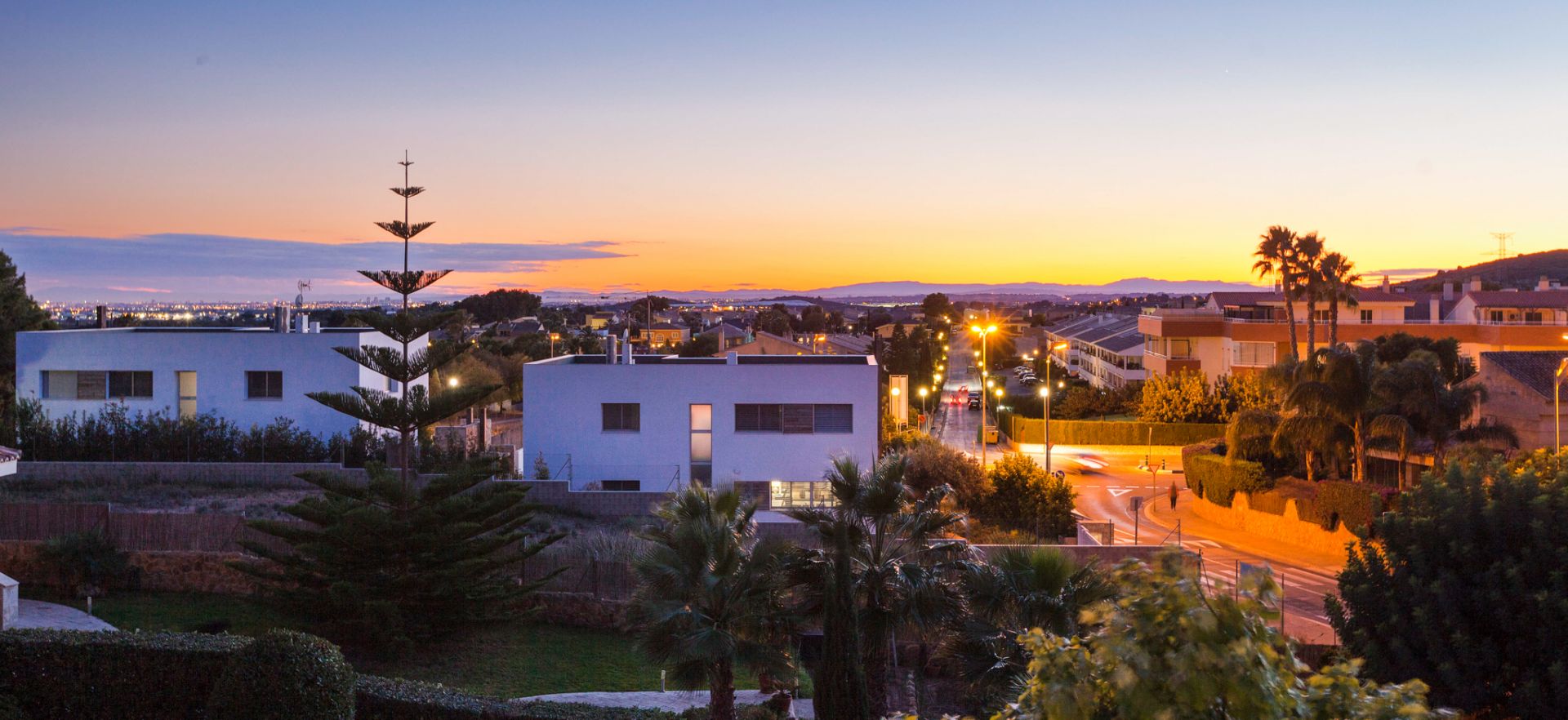 Alfinach
Alfinach is a residential area located in the municipality of Puzol, a town just 16 km from Valencia. It is a large urbanization, where many families live regularly as it is a short distance from the city of Valencia and has prestigious schools in the vicinity.
Is Alfinach a safe residential area?
The urbanisation of Alfinach is a quiet and safe area. In addition to having a private security service that protects its residents day and night, more than 500 families live there permanently throughout the year.
Is it easy to get to Valencia from Alfinach?
The residential area of Alfinach is very well communicated with València. Alfinach has a quick exit to the A-7 motorway, which also connects the residential area with Manises airport. The town of Puzol is also very close, and from there it is possible to use public transport (train) to comfortably reach València without having to use the car. The metro is accessible from another nearby town (Rafelbunyol).
How far is Alfinach from the nearest beaches?
From Alfinach it is easy to get to the nearby beaches such as those of the city of Valencia (Malvarrosa, Patacona) or those of nearby towns such as Puzol or El Puig. In both cases they are high quality beaches with all the services. On days without excessive traffic it is possible to get there in just 25 minutes.
What services does the residential area of Alfinach offer?
The urbanisation of Alfinach has an excellent club with different facilities for the practice of sports, such as tennis or paddle tennis, although it is also possible to attend classes. This club also functions as a meeting point for the residents of Alfinach, as it has other facilities such as a swimming pool, restaurant or children's playground, so that at the weekend it is common to find families living in Alfinach accompanied by guests. The Alfinach club also has a parish church, which offers religious services during the weekend, as well as a chemist on duty.
On the other hand, the town of Puzol has all the necessary services such as supermarkets and small shopping centres, as well as a medical centre and local police.
Is it possible to play golf when buying a property in Alfinach?
Golf enthusiasts are in luck, as the residential area of Alfinach is just 25 kilometres from one of the best golf courses in the province of Valencia, the Golf Club Escorpión.
What leisure activities can the family do from Alfinach?
The residential area of Alfinach is located in the heart of the Sierra Calderona, a natural park characterised by a wide variety of routes for all ages. In the Sierra Calderona there are four Small Trails, suitable to be enjoyed with the family, as well as a Long Trail, a more demanding route that will take us from Puzol to Andilla. From Alfinach it is very easy to plan excursions to enjoy the nature that surrounds the residential area.
What kind of properties can I buy in the residential area of Alfinach?
Alfinach is a residential area of considerable size, so there are a large number of properties, such as villas and townhouses. Alfinach has a wide range of possibilities that can vary in style (classic or contemporary architecture) or size (townhouses or smaller villas and large properties for large families). In any case, the properties located in Alfinach are characterised by their quality of construction.
From many of the properties located on the hillside of this residential area it is possible to enjoy excellent views of the Mediterranean Sea.
What is the lifestyle I will enjoy when I buy a villa in Alfinach?
Alfinach is a classic residential area and has been home to established owners for several decades. Its proximity to Valencia and its amenities are some of the factors that continue to attract many buyers today. It is a fully consolidated residential area with wide streets and avenues, as well as numerous green areas and children's playgrounds.
Which are the closest schools to Alfinach?
Within the residential area is Alfinach School, a private school with decades of experience behind it. The Hispano Americano school is located in a nearby residential area, Los Monasterios, while in the town of Puzol is another private school, Caxton College, which follows the British curriculum.