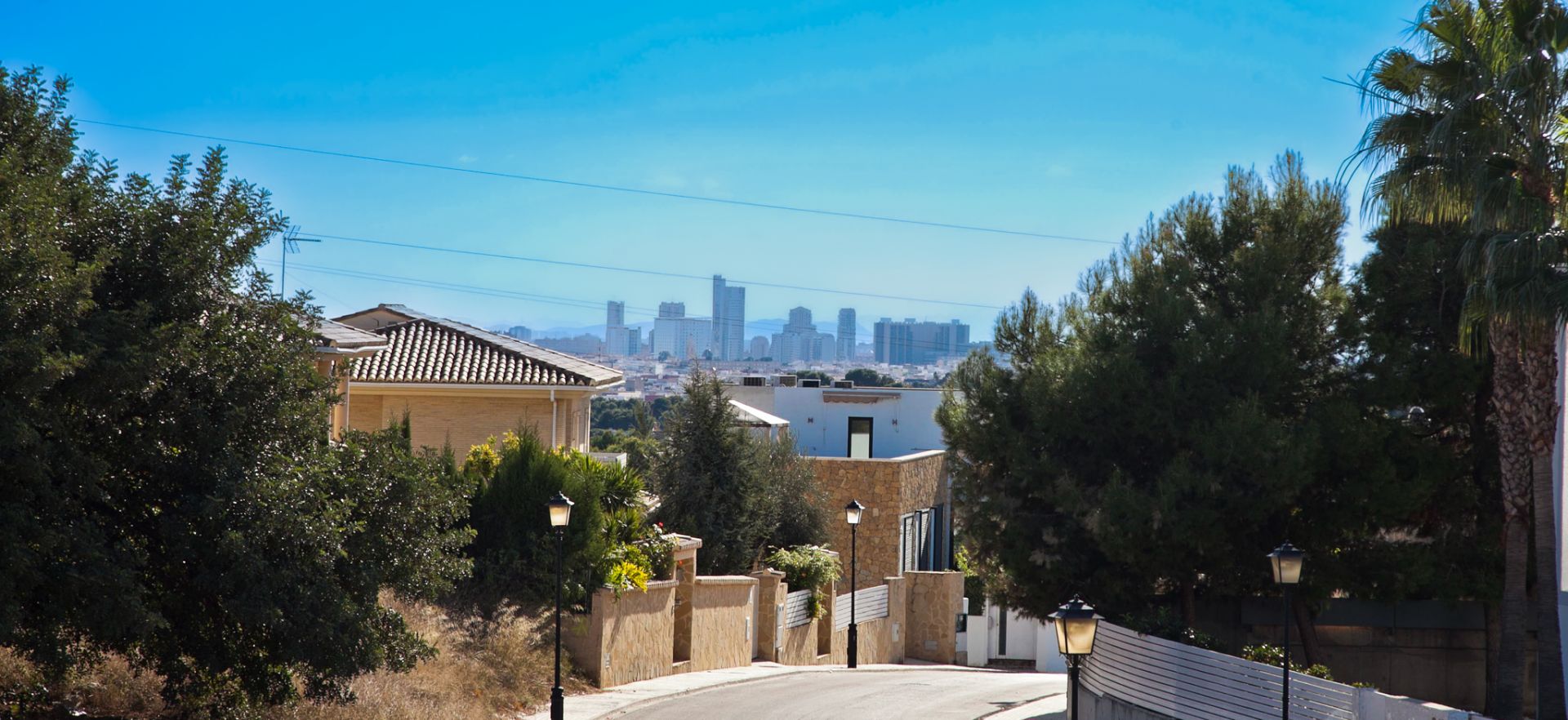 Campolivar
Campolivar is a residential area located 4 kilometres from Valencia, in the municipality of Godella. It is a traditional area for both summer holidays and second homes, although many Valencians and foreigners, given its proximity to the city and all types of services, have moved to Campolivar to make it their permanent home.
Campolivar is not a gated community, is it a safe residential area?
Campolivar is a very safe urbanisation, even though it is not closed to visitors. It has its own security service, which patrols day and night, as well as a local police station in Godella.
Is Campolivar well communicated with the city of Valencia?
The residential area of Campolivar is located in the municipality of Godella, just 4 kilometres away from the city, perfectly connected by road. From the city centre, it takes about 15 minutes to get to Campolivar on a normal traffic day. On busy days, as well as during rush hours (school entrances and exits, as well as working hours), this time can be extended to 25-30 minutes. Camplivar also has metropolitan bus services and metro stops in the nearby towns of Godella and Rocafort, approximately one kilometre away.
How far is Camplivar from the airport and the nearest beaches?
Access to the road that takes us to Manises International Airport is quick and easy. The airport is 8 kilometres from Campolivar and can be reached in about 25 minutes. As well as the urban beaches of Valencia (Malvarrosa, Las Arenas) and Alboraia (La Patacona), the beaches of El Puig or Puzol can be reached quickly from Camplivar in approximately 20 minutes.
What services are accessible from Campolivar?
Campolivar is close to all kinds of services. The nearest one, where you can do your daily shopping or buy newspapers, is the XXX, located in the same urbanisation. Just one kilometre away there are several larger supermarkets (Mercadona, Consum).
Next to the urbanisation of Campolivar is located the Heron City leisure centre, which has the Kinépolis cinemas, as well as a wide variety of restaurants, gymnasium and bowling alley, among other attractions. In recent years, large DIY chains have established themselves next to Heron City.
What kind of properties can I buy in the residential area of Campolivar?
Campolivar stands out for being a high-end residential area, characterised by spacious plots and large villas. As this is a very traditional area among Valencians, we can find buildings dating back to the sixties and seventies, as well as more modern constructions. In any case, the villas located in Camplivar stand out for their open spaces and construction quality.
What is the lifestyle I will enjoy when I buy a villa in Campolivar?
The Campolivar housing estate currently occupies the land belonging to the Barons of Campolivar, who in the mid-19th century built a family castle in the same place. Throughout the 20th century, it gradually became one of the favourite summer resorts and second homes for the residents of the city of Valencia.
The improvement of public and private transport has meant that in recent years many owners have chosen Campolivar as a permanent place of residence, due to its close connection with nature and the tranquillity that this urbanisation transmits.
I love to play golf, what possibilities does a property in Campolivar offer me?
Golf enthusiasts have several high quality options nearby: Escorpión golf club (Bétera, 8 km.), Manises Club (9 km.), Masía de las Estrellas golf course (Catarroja, 16 km.), El Bosque golf course (Chiva, 25 km.), Parador del Saler golf course (El Saler, 29 km.) and Foressos de Picassent Golf Club (29 km.).
What options does Campolivar provide for children's schooling?
Within the same area of Camplivar there are different options for different age groups: the edelweiss centre (English education) and XXX provide childcare for the youngest children, while the public school Cumbres is also bilingual. The Los Olivos school follows the British curriculum, while the Gençana school provides quality public education for Primary and Secondary pupils.
Is it a good option to buy a property and rent it out?
Valencia is a very active city in the rental market. More and more national and foreign professionals are choosing Valencia to develop their careers. In addition, Valencia is a city that receives thousands of students every year, as it has excellent universities and prestigious teaching centres, such as the European headquarters of Berklee College of Music. Acquiring a property for the rental market is an increasingly widespread option. At Rimontgó we will advise you step by step if you wish to explore this option.
What type of foreign clients buy property in Valencia?
There is no defined typology although we can point to liberal professionals who settle in Valencia with their families, those who work for foreign companies with headquarters in the city and, of course, retired people who buy a home in Valencia knowing the quality of life that the city offers.
What guarantees can I count on when buying a property in Valencia?
Firstly, at Rimontgó we always recommend, when purchasing a property, to count on the advice of an accredited and experienced professional. The purchase of a property is a very important decision for any client and for this reason we insist on the need for advice and help. The housing market in Valencia, as in the rest of Spain, is regulated and has all the legal guarantees that protect the interests of both the buyer and the seller.
What are the expenses derived from the purchase of a property in Valencia?
The costs for the buyer in Valencia are the same as in the rest of Spain. Notary and Land Registry fees, Value Added Tax (VAT), Stamp Duty and Transfer Tax. Some of these expenses depend on the value of the property. At Rimontgó we will accompany you in all the phases of the purchase, and previously we will offer you a detailed report of the costs derived from the acquisition of the property.
How long does it take to buy a property in Valencia?
There is no definite time frame. At Rimontgó we always recommend calmly analysing the market and the different proposals it has to offer. The purchase of a property is a unique decision, extremely important and that affects both the buyer and their family, which is why haste is not a good advisor. It is essential to take as much time as the client needs to choose the best option.
Is it advisable to go to a real estate company when buying a property in Valencia?
It is not convenient. It is essential. In Spain, the home buying and selling market is a free market, which is why at Rimontgó we always recommend that you turn to professionals with experience and prestige. Expert advice in all phases of the purchase is the best tool to make an optimal decision.
Do I need any special documentation to buy a property?
At Rimontgó we advise our clients in all the administrative processes related to the purchase of a property, such as obtaining the NIE, opening a bank account or choosing a notary to carry out the signature with all the legal guarantees.
Properties in Campolivar
Campolivar, Godella
4

Bedrooms

Beds

5

Baths

Baths



476 m²

Interior

Int.

857 m²

Plot

Plot