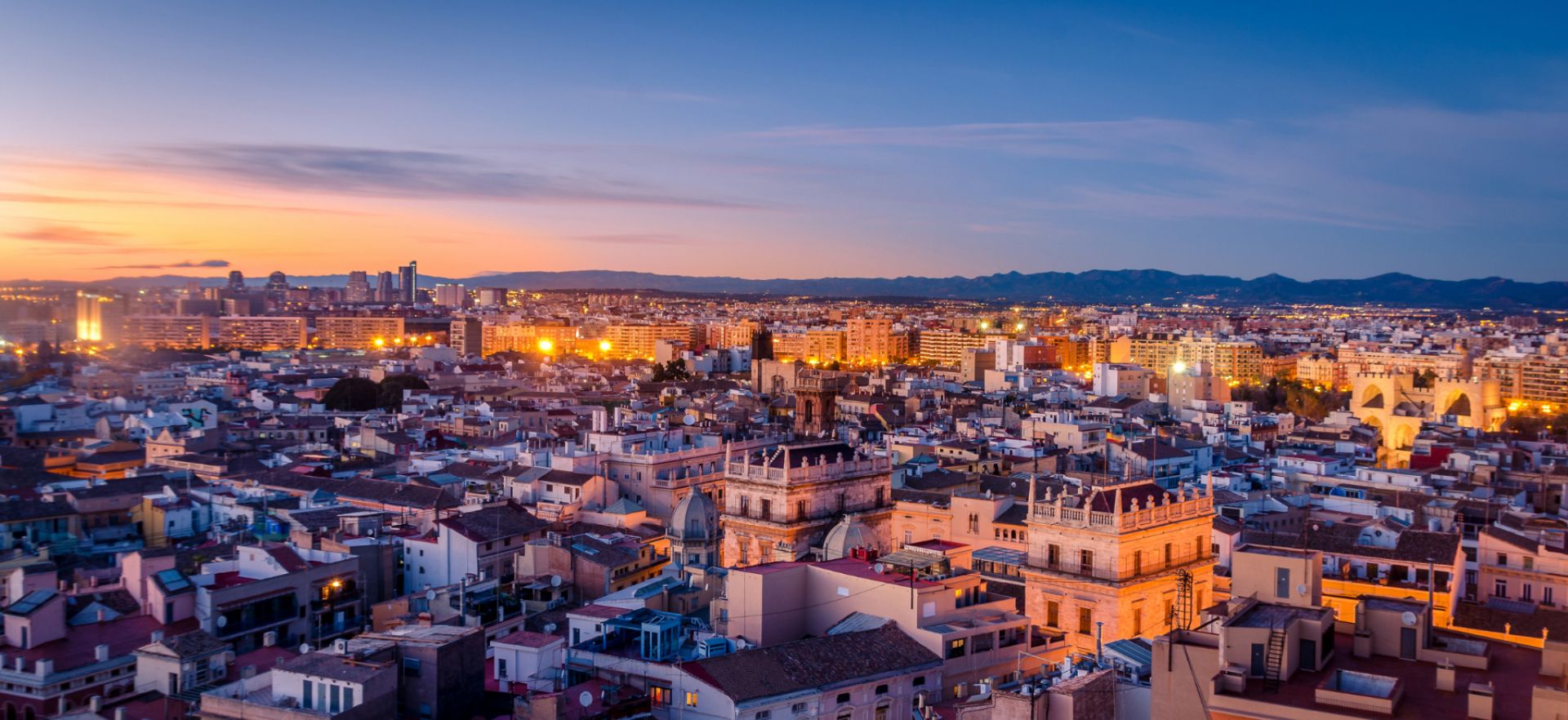 Valencia
Valencia is a city located on the shores of the Mediterranean Sea in eastern Spain. It is the third largest city in the country, yet retains the charm and lifestyle of a small town. Valencia has an excellent quality of life, with over 300 days of sunshine a year and a very reasonable cost of living compared to other European cities. Valencia is one of the favourite cities among foreign visitors when it comes to buying a property. Valencia is a comfortable and manageable city, well connected to other major capitals such as Madrid, Barcelona and Seville and has an international airport less than 10 km from the city centre. Valencia offers visitors an unrivalled compendium of culture, art, heritage, design and gastronomy.
Is Valencia a suitable city to buy a property in Spain?
Buying a property in Spain, with the advice of an accredited professional, is a solid and safe investment, with all the legal guarantees. Valencia is a city that benefits, in the exclusive housing segment and in the areas most in demand by foreign clients, from lower prices than Madrid and Barcelona. In the most sought-after areas of Valencia the price remains stable and the properties maintain their value over the years, without depreciating in value.
What kind of properties can I buy in Valencia?
Due to Valencia's excellent climate, the penthouse is the most sought-after type of property by foreigners, followed by flats with large terraces. In addition, Valencia is less than 30 minutes away by car, with different urbanisations offering a wide variety of villas, characterised by their privacy and exclusivity.
Is it preferable to buy a house in the city or in nearby housing estates?
Both options have advantages and the decision depends on the lifestyle and interests of the buyer. The city offers a vibrant cultural life and excellent restaurants, among many other attractions, while the urbanisations offer privacy, security and proximity to international schools.
What are the most sought-after areas?
Within València, foreign buyers focus their interest on the Ensanche (shopping and gastronomic area in the city centre), Ciutat Vella (historic quarter), Pla del Real (area extending from the Viveros Gardens to the Mestalla stadium, next to the river bed), the area around the Town Hall and Central Market and the area around the City of Arts and Sciences. The area closest to the sea is the Patacona beach, located in the town of Alboraya, with views of the Mediterranean. A short distance from the city we find very popular residential areas such as Campolivar (Godella), Santa Bárbara (Rocafort), El Vedat and Santa Apolonia (Torrente), Torre en Conill (Bétera), La Cañada and Mas Camarena (Paterna), Alfinach and Los Monasterios (Puzol) or El Bosque (Chiva). To the south of Valencia there are localities that usually house second homes for the residents of Valencia, thanks to their proximity to the city: El Saler, El Perellonet, El Perelló and Cullera.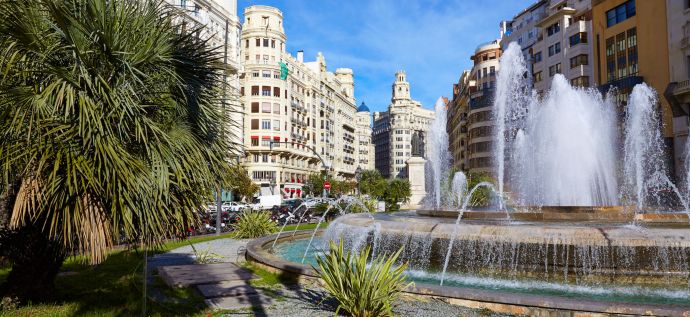 Is Valencia a safe city?
As in any other city, there are areas in Valencia that are not advisable for both visitors and locals. This aside, Valencia can be considered a very safe city, both by day and by night. A fact to take into account and which serves as a reference: in 2020 Valencia recorded its lowest crime rate since 2009, with a 32% drop in crime.
What is life like in Valencia?
Valencia benefits from a Mediterranean climate, with more than 300 days of sunshine a year. This extraordinary climate has a decisive influence on the way of life of its inhabitants, which is why Valencians love to live life in the street: strolling and cycling along the riverbed, meeting friends in a bar or eating on the terrace of a restaurant. Valencia has an intense cultural life, with reference museums such as IVAM, Centro del Carmen, Bombas Gens or the San Pío V. Music is an aspect closely linked to the city. As well as venues specialising in live pop or jazz performances, the Palau de la Música and Palau Reina Sofía offer a full programme of opera and classical music. Valencians take every opportunity to go out to restaurants and Valencia is home to such prestigious chefs as Quique Dacosta (Llisa negra), Ricard Camarena (Bombas Gens) and Bernd Knöller (Riff). Valencia is also a city linked to design and architecture. In fact, Valencia has been chosen as World Design Capital in 2022. And last but not least, we cannot leave out the popular festivals, which bring thousands of Valencians out onto the streets year after year. Among the most important are the Fallas, the Semana Santa Marinera and the Corpus Christi festival. Valencia has an excellent quality of life that is internationally recognised. One example: a survey by the InterNations association, published by Forbes magazine, placed Valencia at number 1 in the ranking of the best cities in the world to live in.
Does Valencia have international schools?
here are several prestigious schools that follow the foreign curriculum in the outskirts of Valencia, just a short distance from some of the urbanisations. Rimontgó has agreements with several of these international education centres which it makes available to its clients.
Is it a good option to buy a property and rent it out?
Valencia is a very active city in the rental market. More and more national and foreign professionals are choosing Valencia to develop their careers. In addition, Valencia is a city that receives thousands of students every year, as it has excellent universities, such as the UPV, and prestigious teaching centres, such as the European headquarters of Berklee College of Music. Acquiring a property for the rental market is an increasingly widespread option. At Rimontgó we will advise you, step by step, if you wish to explore this option.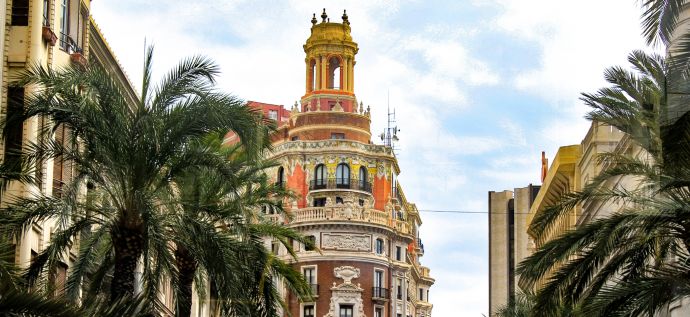 What type of foreign clients buy property in Valencia?
There is no defined typology, although we can point to independent professionals who settle in Valencia with their families, those who work for foreign companies with headquarters in the city and, of course, retired people who buy a home in Valencia because of the quality of life offered by the city.
What guarantees can I count on when buying a property in Valencia?
When purchasing a property, at Rimontgó, we always recommend the advice of an accredited and experienced professional. The purchase of a property is a very important decision for any person and for this reason we insist on the need for advice and help. The housing market in Valencia, as in the rest of Spain, is regulated and has all the legal guarantees that protect the interests of both the buyer and the seller.
What are the expenses derived from the purchase of a property in Valencia?
The expenses for the buyer in Valencia are the same as in the rest of Spain: Notary and Land Registry fees, Value Added Tax (VAT), Stamp Duty and Transfer Tax and Stamp Duty. Some of these expenses depend on the value of the type of property. At Rimontgó we will accompany you in all the phases of the purchase process, and, previously, we will have offered you a detailed report on the costs derived from the acquisition of a property.
How long does it take to buy a property in Valencia?
It can be as quick as two weeks and as long as three months. It all depends on the degree of due diligence required on each property and on the organisation and experience of the Real Estate Agent leading the transaction.
There is no set time frame. At Rimontgó we always analyse, in great detail, each operation and the market circumstances. The purchase of a property is an extremely important decision, which affects the buyer and his family, which is why haste is never a good advisor. It is essential to take the time that each transaction needs to fully enjoy the purchase of a home, which, after all, is also an investment.
Is it advisable to go to a real estate company when buying a property in Valencia?
More than convenient, we would say that it is highly advisable and, the more complicated a transaction may be, it may even be essential to go to a Chartered Real Estate Agent with years of experience. Although in Spain the property buying and selling market is a free market, at Rimontgó we always recommend that you go to professionals with experience and prestige. Expert advice in all phases of the purchase is the best tool to make an optimal decision.
Do I need any special documentation to buy a property?
At Rimontgó we advise our clients in all the administrative processes related to the purchase of a property, as well as during its ownership and subsequent transfer. We provide essential help in obtaining the NIE, opening a bank account and other necessary procedures to carry out the purchase or sale with all the legal guarantees.